Common features devices from Acer spin, including models of Spin 7 Spin 5, Spin 3 and Spin 1, the operation under Windows 10, touch screen and swivel hinges 360 degrees, which allows you to work in several modes: traditional ( mode notebook), tablet, display or projection.
Spin 7 is 10.98 mm thick and 1.2 kg in weight. The aluminum housing features 14-inch touch screen Full HD IPS coated with a scratch-resistant glass Corning Gorilla Glass.
The device features an Intel Core i7 7th generation, up to 8 GB of memory, the SSD with a capacity of 256 GB ports, two USB 3.1 type C, a large glass-covered trackpad and up to 8 hours. battery life.
convertible notebook series Spin 5 are equipped with copyright hinges Acer to rotate the screen 360 degrees, ensuring the two levels of resistance – low to open the hatch and higher to ensure the stability of the screen when using the touch . Housing made of brushed aluminum prevents from leaving fingerprints.
Notebook Series Spin 5 are powered by Intel Core 7th generation, up to 16 GB DDR4 memory and equipped with a SSD of up to 512GB. The device offers up to 10 hours. battery life, touch screen 13.3 "Full HD IPS works with a stylus Acer Active Pen and Ink support Windows technology. HD camcorder supports HDR (High Dynamic Range).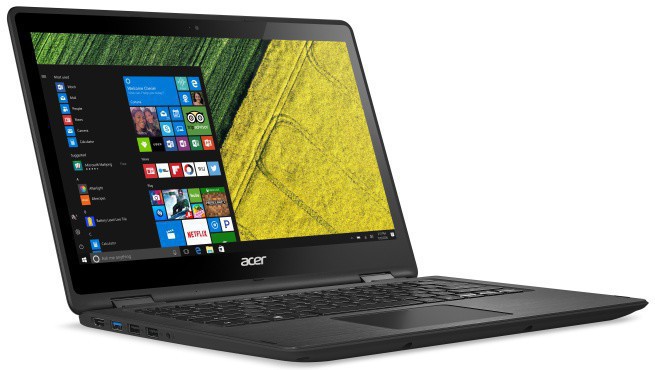 Notebook series Spin 3 is equipped with a screen diagonal of 15 , 6 "and HD or Full HD. Besides feature Intel Core 6th generation, up to 12 GB of DDR memory 4, a backlit keyboard with a pitch of 1.6 mm, the camera HDR and a battery that provides up to 9.5 hours. mobile work. In addition, hybrids Spin 3, you can install the SSD and HDD simultaneously.
Spin Series 1 offers up to 9 hours. work, as well as the possibility of a hybrid construction. Touch screens and laptops Spin 1 stylus support Acer Active Pen, Ink work with Windows, and are covered with anti-bacterial glass Antimicrobial Corning Gorilla Glass. Available configurations include screens with a diagonal of 11.6 "and 13.3″ Full HD IPS and Intel Pentium and Celeron.
Acer 7 Spin, Spin Spin 3 and 5 will be available in October 2016. Prices starting respectively from 5799 zł, 2499 zł and 2599 zł. Laptops Spin 1 will be available in December. prices starting from 1299 zł.
Learn more: IFA 2016 Spin Acer, Acer