Lenovo Yoga Book, available in Android and Windows 10, is made of magnesium and aluminum. Only weighs 690 grams and is 9.6 mm thick, and at its narrowest point just 4.05 mm. It offers 15-hour. battery and bracelet hinge built on a three-axis mechanism 130 different mechanical parts manufactured from five different materials, to rotate the screen 360 degrees.
convertible design offers work in four different ways: to browse the network, viewing and playback of multimedia, writing for a traditional laptop and making notes, drawings and other works on the touch panel in the unfolded state of the screen 180 degrees.

the device is equipped with a glass screen IPS Full HD 10.1″ with a layer of anti-glare matte finish, Intel Atom X5, the sound with Dolby Atmos, 4 GB of RAM and 64 GB of internal memory.
keyboard Halo keyboard Yoga Book does not have physical keys – they are displayed on the touch panel. Writing facilitate illuminated edges buttons in conjunction with the sensitive haptic technology. Each keystroke generates feedback in the form of delicate vibration, which is a confirmation of successfully executed action. The software also allows you to "learn and adapt" to the user's writing style – offers suggestions and auto-complete function.

the smooth surface of the keyboard Halo keyboard allows you to use it in several ways using a bifunctional Real Pen stylus with replaceable tip and cartridge with ink, so users They can write on an ordinary sheet of paper placed on a special pad. The other end of the pen used to use on the touch screen. All the notes and illustrations, formed on the touch screen, touch panel, or a piece of paper are stored in the device. Real Pen utilizes EMR Wacom Feel It allows to work on the touch panel to the recording of data in a digital format in real time. The stylus has a 2,048 pressure levels and detects the inclination of 100 degrees. Also, do not need to be recharged or replaced – does not require batteries and ink cartridge can replace the traditional, such as in an ordinary pen.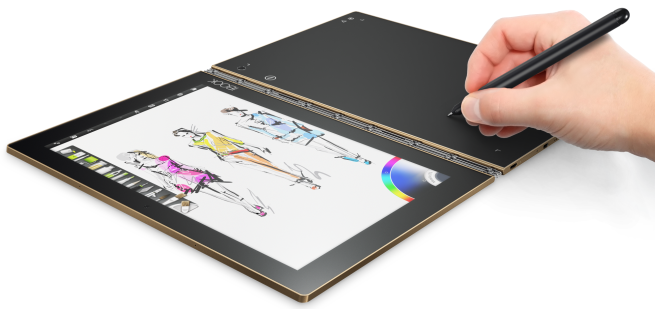 Yoga Book provides an interface Book UI for Android, which allows you to use several applications at once under multiple windows pinning functions, minimize and maximize them. Introduces to the screen view taskbar, showing running applications and support for traditional keyboard shortcuts and function known from Windows.
Tablet Lenovo Yoga Book will be available from September 2016. At a price of 499 euros including tax VAT for the version of Android (available colors: gold and gunmetal) and 599 euros including VAT for the version of Windows (carbon black).
Learn more: IFA 2016 Yoga Book, IFA, Yoga Book